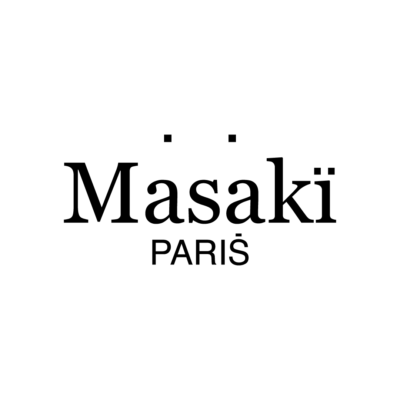 The perfumes are elaborated since 1999 through an exclusive duo composed by Japanese designer Masaki Matsushima and French perfumer Jean Jacques. A fusion between a unique vision and a creative and olfactory talent. This perfect alchemy is a result of a collection of perfumes with a strong identity.
Masaki perfumes are conceptual and urban fragrances with minimalist, and contemporary design; cut-angles are the DNA of the brand. They are thought and designed by Masaki, inspired by his culture, women, art, and travels.
Masaki feminine and masculine fragrances are distinctive. They are for those looking for new and different perfumes. An alternative choice.
Masakï Matsushïma, the designer
Masaki Matsushima is a Japanese designer of the now active generation, mentored by illustrious masters such as Issey Miyake. He graduated from the famous Bunka Fashion College in Tokyo.
In 1992, he created his company "Masakï Matsushïma International" to present his collections alternatively in Paris and in Tokyo. Two years later, in 1994, creation of "Masakï Matsushïma Paris": Masaki Matsushima became part of the happening in the French capital during the Fashion season.
Masaki's style is a continuous search for innovation. However one can guess the Japanese approach by the fluidity of his clothes and the sobriety of the colors. Every collection is different from the previous but a constant philosophy is there: synthesis between Japanese minimalism and Western avant-gardism.
His first perfume line mat; is launched in 1999 at Sephora Tokyo. The success is such that the brand soon acquires a worldwide notoriety.
Jerome di Marino, the perfumer
Drawn to art yet with a scientific soul, French native Jérôme di Marino came across the ISIPCA fragrance and cosmetic school by chance, applied and graduated in 2010 after completing an apprenticeship at Givaudan with his "perfumery godmother", Nathalie Cetto.  He then spent a year in Givenchy's olfactory unit, evaluating compositions submitted by fragrance companies.  In 2002, he joined Takasago as a Trainee Perfumer under Francis Kurkdjian. He spent two years in the shadow of his mentor, but they were also two years in light, observing a rigor and perfectionism that he was unlikely to forget. Jerome worked for the Black project for Daniel Hechter which picked up a FiFi Award in 2015. And so, a star was born. Since 2017, he has been fully-fledged perfumer-creator. Art is ever-present: in the background in his daily life, in the foreground in the niche brands he works with.
Jérôme has signed and co-signed famous fragrances for Agatha, Amouroud, Carven, Daniel Hechter, Elli Saab, Kenzo, MCM, Première Note, Sézane. He now collaborates with Masakï Matsushima and created the new masculine line mat; homme.
Interview with the perfumer:
Olfactory memory: Marrakech and the souks, orange blossom and spices, Atlas cedar boxes with that woody, dense, almost animal smell
Motto: All good things come to he who waits. This is a profession that needs time and lots of patience.
Inspiration: The Soulages exhibition in the Pompidou Center (in Paris).
Trip: Sri-Lanka and its magnifiscent landscapes
Dream: To travel around the world, taking time to meet people, backpacking
Iconic fragrance: Kouros by Yves Saint Laurent his father used to wore.
Jean Jacques, the perfumer
Music and perfume have a common vocabulary made up of composition and notes. Jean Jacques offers the perfect illustration of the common denominator between the two arts. At 16, he played the piano and loved jazz. At 20, one of his friends mentioned ISIPCA to him. It was to be a revelation that cast a veil of uncertainty over his firm intention to be a musician. He fell for the charms of perfume, in what was to be a key moment in his studies and artistic aspirations. In 1993, he joined Quest International at first to work with Pierre Bourdon then Maurice Roucel. In 1994 he was recruited by Kao Corporation, and three years later in 1997 moved to Takasago. Jean absolutely loves being creative, playing with raw materials. He has since signed and co-signed many creations for Courèges, Davidoff, Salvatore Ferragamo, Givenchy, Isabey Paris and also for Jean Paul Gaultier and Kenzo.
Interview with the perfumer:
Intense olfactory memory: His childhood fetish object, (his mother's nightdress)
Motto: Enjoy
Music: Keith Jarrett's Köln Concert
Season: Summer
Time of day: The morning at 10
Idol: Rachmaninov
Cult perfume: Aromatics Elixir by Clinique
Cult film: Once
Little everyday pleasure: Good music in the car